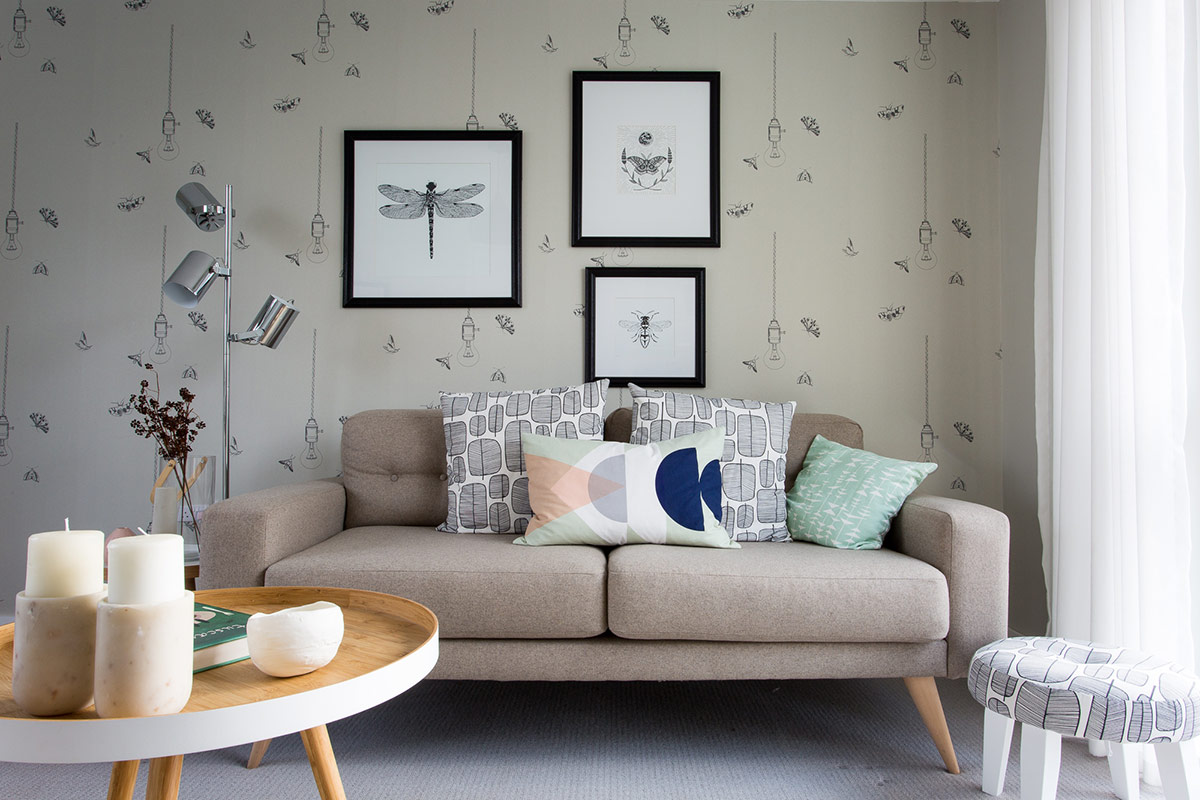 Trent Basin benefits from the Territory treatment
Sustainability is not just an industry buzzword – it's rapidly becoming a key requirement for new developments, as the government places increasing emphasis on environmentally mindful living, and buyers are keen to keep energy bills low. Eco-friendliness is rapidly becoming a lifestyle, and one of our latest projects encapsulated this.
We were approached by specialist developer Blueprint as they launched 45 new energy efficient homes at Trent Basin in Nottingham. With our help their show home, show apartment and sales suite/community hub embodied the values and essence of the project – encapsulating community spirit and eco-friendliness with a touch of cutting edge contemporary style.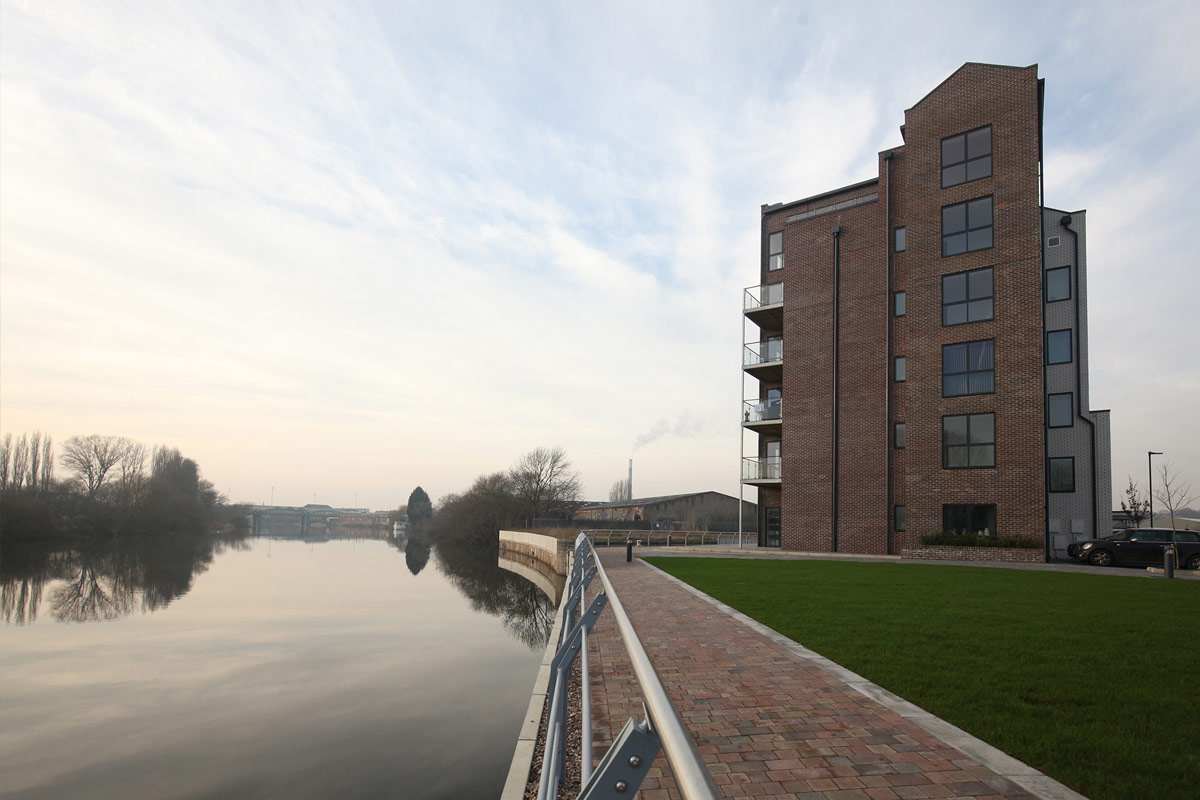 Why is Trent Basin by Blueprint so unique?
Located within Nottingham Waterside, Blueprint set out to create a sustainable residential neighbourhood with a strong sense of community, shared values and distinctive contemporary homes. Nick Ebbs, Chief Executive at Blueprint described it best: "Trent Basin represents a new chapter in Nottingham's history as the city starts to unlock enormous potential of Nottingham Waterside area. Its prime location means it connects city life and waterside living and celebrates the Trent's industrial heritage while bringing the very best in contemporary architecture and urban design to the riverside location."
Nick continued: "Our vision is to create a sustainable neighbourhood with a strong sense of community and shared values."
All properties at Trent Basin are designed with 'fabric first' principle to promote sustainable low energy living and maximise the use of natural light. This is beneficial both from a practical and aesthetic perspective – so we were keen to do the show homes justice with design schemes that made the most of these elements.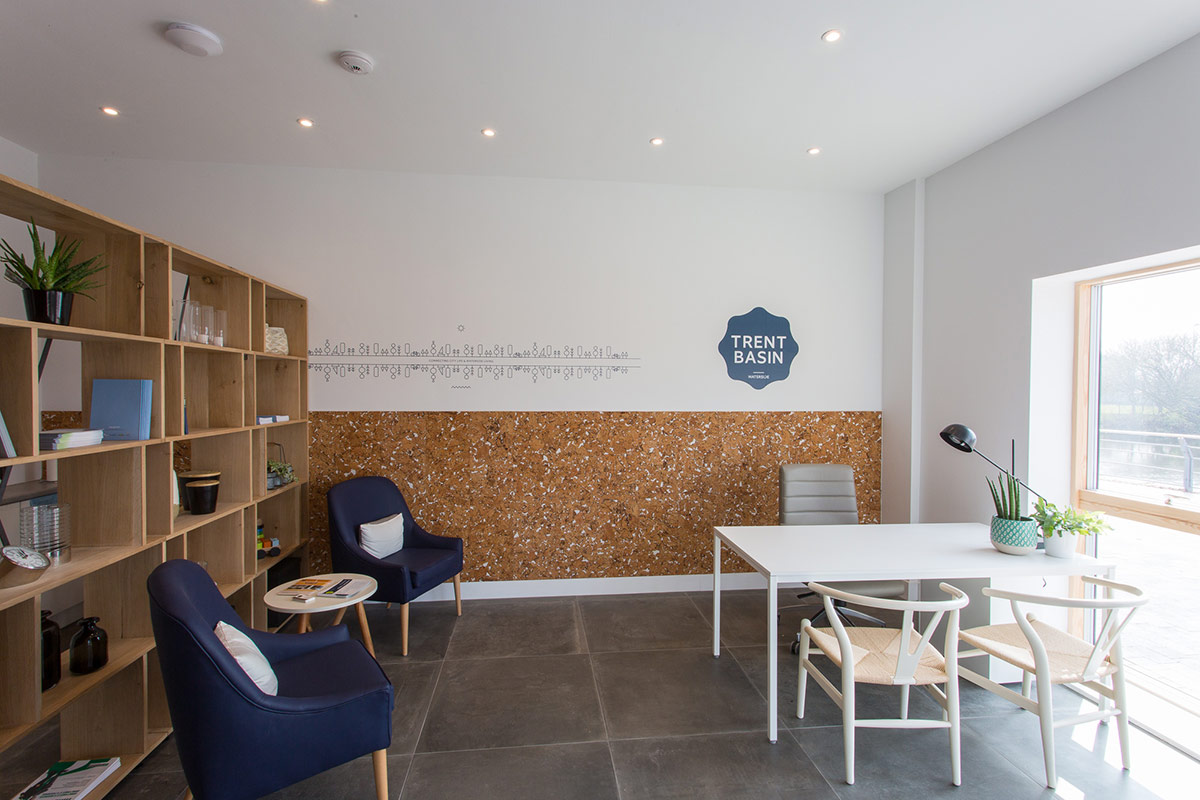 "After delivering the show homes before a tight deadline, we opened the doors to widespread praise and reservations of homes and apartments doubled over night. We have no doubt that the design was a key factor in this." Said Nick. So why was the presentation of the properties such a resounding success?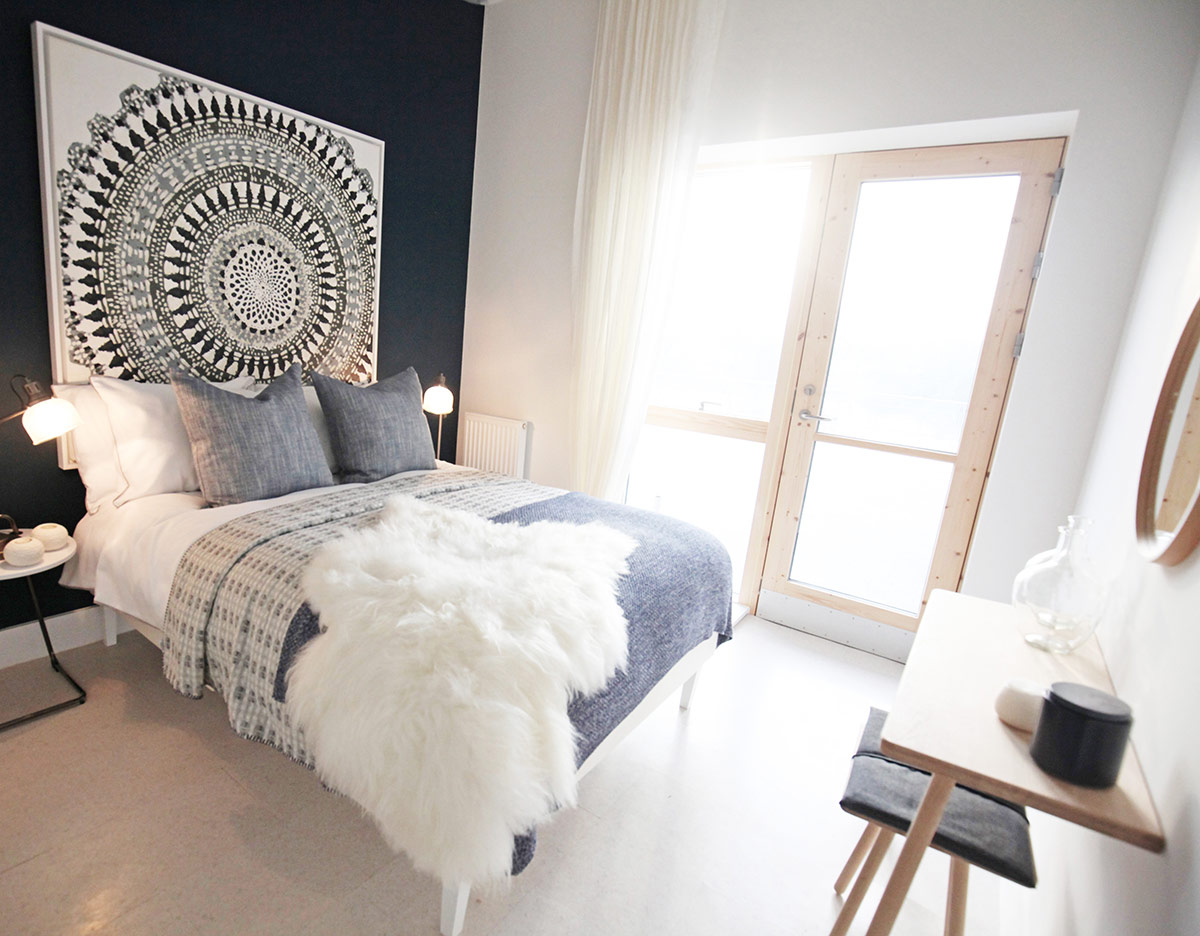 Territory took inspiration both from the development's ethos of sustainability and its location. Laura Davies, Head of Show Home Design at Territory, explains: "Trent Basin's show homes are designed to showcase versatile modern living and the development offers a range of properties to cater for a wide target market. We developed furniture layouts that really show how the space can work for potential buyers and created a bespoke style for Trent Basin that is cool and contemporary but gives a feeling of effortlessly stylish casual living. The show home, show apartment and community hub are all interpretations of the overall concept we developed, so they each have their own look whilst staying true to a "Trent Basin" feel."
The schemes have been inspired by the ethos of the build and convey a feeling of natural living, sustainability and wellbeing. All the homes at Trent Basin boast large windows to maximise natural light and provide views that make the most of the natural environment, particularly the waterfront.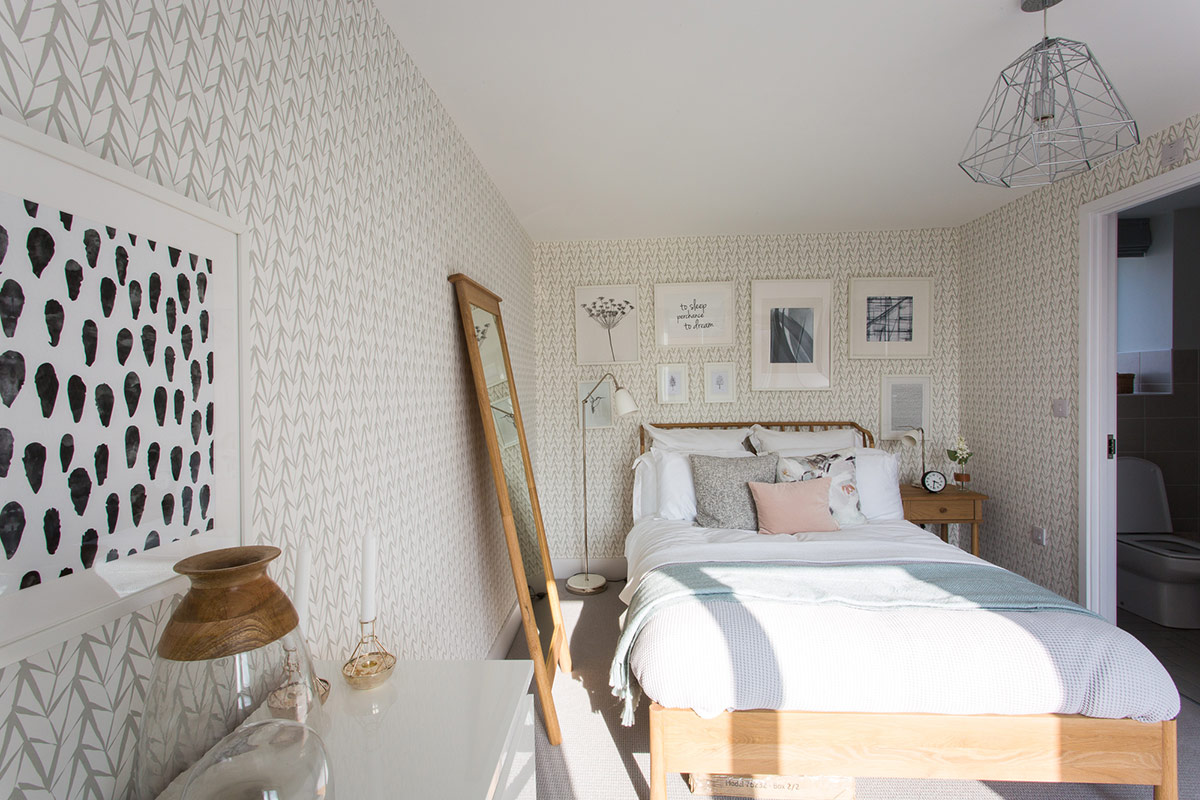 "Reflecting the fact that the development is on the banks of the river Trent, the colour schemes link with the outdoors with a palette of fresh neutrals accented with a range of blues and greens inspired by the river views creating balance and calm. The use of responsibly sourced natural materials like bamboo flooring and natural fibres like cotton and linen are quality products that will stand the test of time for years to come. We've complemented natural outdoor colours and materials with some industrial accents such as lighting and furniture with metal detailing, to draw on the industrial heritage of the area. The master bedroom in the show apartment gives a nod to the lace making industry Nottingham was famous for with a bespoke, framed headboard printed with a lace inspired motif. "
Interest in the development was very high, with fourteen of the forty-five 2-5 bedroom properties in Phase One reserved off-plan since being released. When Trent Basin officially opened its doors, potential homeowners were able to view the newly designed show homes first hand and find out more about the development.
Commenting on the end result, Nick said, "Territory's designers have been instrumental in the developments success, helping us to achieve our vision."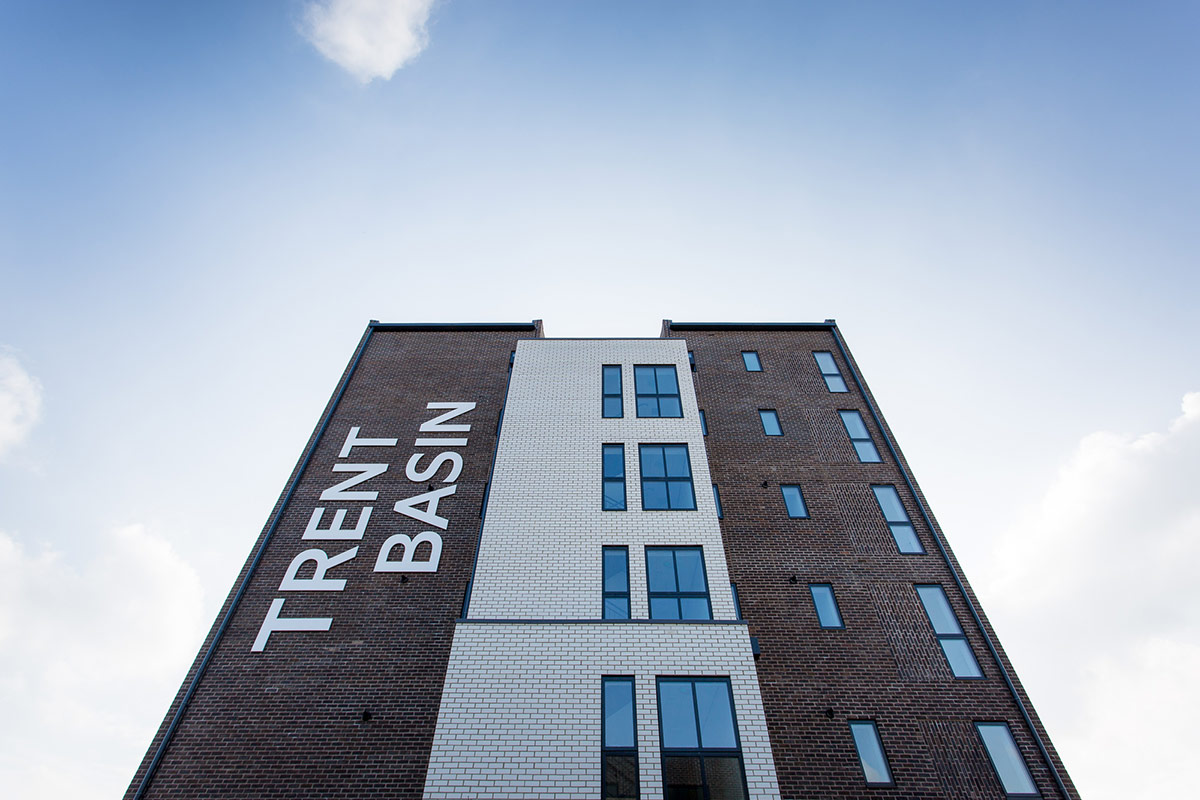 "The unusual Community Hub commission gave Laura the very loose objective of creating a space that was modern, flexible and could be used as a workplace, a social space, a community hub and anything in between. We are delighted with the outcome and have already held marketing events, resident's evenings and hosted numerous stakeholders and delegations already."
Laura, Head of Show Home Design added, "We have very much enjoyed working on the Trent Basin show home. It really is a great development. Show homes are a passion of ours, and it was wonderful to be part of such an exciting and contemporary assignment. The whole design project has been a collaborative process with the developer, which we believe reflects in the quality of the development."
Does your show home development require professional interior design to ensure swifter sales? Contact us today to discuss your requirements.